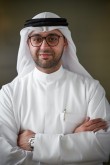 The Sharjah Commerce and Tourism Development Authority (SCTDA) has confirmed its participation at the 11th edition of Riyadh Travel Fair from March 28-29, 2019, to highlight tourism, cultural and leisure attractions in the emirate and promote itself as one of the most significant local and international tourism destinations. Sharjah will focus on ecotourism and outdoor activities with a strong emphasis on new branded hotel projects, in line with SCTDA's commitment to promoting Sharjah's tourism market in the Arab markets, especially in Saudi Arabia – one of the largest Gulf markets for tourists to the emirate.
Commenting on the participation, H E Khalid Jasim Al Midfa, Chairman, SCTDA, said, "Our participation at the Riyadh Travel Fair is in line with our strategic plans to promote the emirate of Sharjah as a leading tourist destination in the world's major tourism markets and to ensure our presence on the global tourism map. This exhibition is of great importance as it is an ideal platform for us to review the competitive advantages and capabilities that make Sharjah a cultural, tourism and leisure centre and a symbol of cultural excellence in the region. The Gulf region is a very competitive market because of the similarity of equivalent countries in climate, terrain and geographical location, and this requires us to provide exceptional tourim products for GCC tourists, who accounted for 45 per cent of the total number of Arab tourists to the emirate last year."
Al Midfa added, "We always seek to promote Sharjah in various Arab and international exhibitions and forums in cooperation with various bodies in the public and private sectors. We take this approach because of the emirate's unique characteristics and diversity in tourism products that meet the interests of different tourists, which include culture, arts, environment, history, science, entertainment, desert adventures and many more. Enhanced efforts will now be made to support the emirate's agenda for the 2019 World Book Fair, with a series of cultural events held for a year, starting April 23. We are looking forward to opening new horizons for cooperation with a number of stakeholders in the tourism, travel and hospitality sectors in the Kingdom of Saudi Arabia, and to consolidate bridges of exchange of the most successful experiences and best practices in the development of tourism services and products."
The joint delegation from the emirate of Sharjah, headed by SCTDA, includes a prominent group of government and private bodies including Sharjah Airport Travel Agency: SATA; Sharjah Collection; Sheraton Sharjah Beach Resort & Spa ; Tulip Inn Hotel, Coral Beach Resort Sharjah, Cozmo Travel LLC; among others.