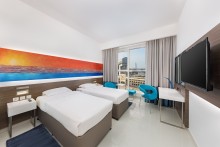 Citymax Hotels officially opened their second Citymax Hotel Al Barsha, the latest property to join the group's expanding portfolio and the first hotel to effortlessly combine business travel with the charm of a boutique style setting. The opening follows the successful launch of Citymax Hotel Ras Al Khaimah in November 2018, and bumps the Citymax portfolio up to five hotels in operation across the GCC, as well as a sixth Citymax Hotel in Aswan, Egypt.
Known for its personality of vibrant simplicity and providing its guests with an unforgettable stay, Citymax Hotel Al Barsha will follow in the same steps, but with an added sense of appeal. This Citymax property is uniquely positioned to cater to business travellers looking for the comforts of a well-known brand, but the exclusivity and warmth of a boutique hotel.
Citymax Hotel Al Barsha is set alongside its sister property, Citymax Hotel Al Barsha at The Mall, which is largely popular amongst families and leisure travellers. The hotel boasts 120 spacious rooms, including 24 twin rooms and 96 queen rooms. Each floor of the hotel has only 10 rooms, providing a sense of privacy in the heart of bustling 'New Dubai'.
Each room is larger than average and kitted out with a variety of in-room facilities that meet the specific needs of business travellers; workstations with universal sockets and a media hub with Bluetooth capability for wireless audio streaming to the TV.
The property hosts a meeting room, with a capacity of 8-10 delegates. Featuring three unique dining venues, guests are sure to be spoilt for choice. The Stag will be the city's newest gastro-pub, which is set to launch in the first week of May and will be the latest addition to Citymax Hotel's diverse F&B portfolio. The cozy, non-smoking venue on the ground floor will serve up delicious pub grub and specialty refreshments.