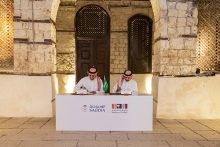 SAUDIA Group and the Saudi Arabia Ministry of Culture signed a Memorandum of Understanding (MoU) to collaborate on promoting the nation's distinctive culture throughout the world while enriching the cultural experience of the Kingdom's guests. This agreement is in line with the Group's commitment to achieving the goals of Vision 2030 to promote the Kingdom's cultural sector by creating exceptional cultural experiences that touch the senses of guests on board being the first gateway for the traveler to Saudi.
This partnership reflects SAUDIA Group's efforts to create exceptional cultural experiences to more than 60,000 passengers daily. The role of the group is not limited to only creating these cultural experiences, but it also extends through its sponsorship and support for cultural events and festivals such as the first edition of The Red Sea International Film Festival, Diriyah Contemporary Art Biennale, and the support it has extended to the Ministry of Culture in celebrating the 'Year of Arabic Calligraphy' by adorning two of its aircraft with a special livery marking the initiative. And its support to the 'Year of Saudi Coffee' initiative.
For 77 years, SAUDIA has strived to bring elements of Saudi culture to the destinations it serves. With the establishment of the Kingdom's Ministry of Culture in 2018, coupled with SAUDIA's significant network expansion, Saudi Arabia is primed to impart its fascinating customs to a wider audience. This is in line with Vision 2030 which looks to celebrate the nation's rich and unique dialect, culture, tradition, heritage, and culinary identity as shaped by the diversity of its people.
His Excellency Eng. Ibrahim Al-Omar, Director General of SAUDIA, said on the occasion of the MoU signing: "We firmly believe it is our mission as the Kingdom's national carrier to bring Saudi Arabia to the world and the world to Saudi Arabia by crafting exceptional Saudi experiences for our guests throughout their entire journey.
"This purpose of this agreement is to formalize SAUDIA's role in the Saudi Arabia cultural movement, not only by providing a unique experience onboard and in our Alfursan Lounges, but right throughout our partnerships and sponsorships."
SAUDIA connects guests from more than 100 destinations around the world to the Kingdom via its state-of-the-art hub at King Abdulaziz International Airport in Jeddah and other key stations around the Kingdom. SAUDIA has reiterated its commitment to providing best-in-class services and launching new routes to bring the world to Saudi Arabia as part of the 'Wings of Vision 2030.' The group, represented by SAUDIA and flyadeal, recently expanded its global network with new 19 destinations to Barcelona and Malaga, Spain; Mykonos, Greece; Zurich, Switzerland and Seoul, South Korea.