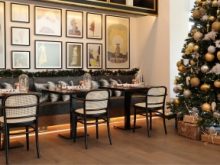 Sarood Hospitality will launch its annual 'Make It A December to Remember' campaign next week with a four-day festive preview to mark the 100-day countdown to Christmas. Running 16-19 September at Sarood Hospitality's Dubai Hills Golf Club venues, The Duck Hook and Hillhouse Brasserie, the four-day 'Make It A December to Remember' preview will showcase a stocking of Christmas-themed promotions taking place across the operator's leading food and beverage brands in December.
On September 18, Hillhouse Brasserie, the chic all-day eatery, will open to brunch lovers and festive fanatics for a special 'Christmas Countdown' edition of its popular Brunch in The Hills. Guests will enjoy a traditional family-style Christmas feast served to their table alongside free-flowing seasonal beverages.
Diners can get into the Christmas vibe with festive nibbles, including duck liver pâté with sourdough toast; The Duck Hook scotch egg with homemade piccalilli; turkey, chestnut & cranberry salad; prawn cocktail and more. Mains include classics such as wild mushroom risotto; roast turkey with stuffing & sausages wrapped in veal bacon; prime rib beef with gravy and sides of roast potatoes, parsnips, carrots, braised cabbage and brussels sprouts. Traditional desserts include Christmas pudding; sticky toffee pudding; chocolate fudge arctic roll and mince pies.
Giving brunch-goers a chance to pace themselves between courses, the talented bartenders at Hillhouse Brasserie have also created a slew of Christmas-themed concoctions befitting the festive celebration. Highlights include Mulled Grape; Gingerbread Martini; Salted Caramel White Russian; Jingle Juice and more.
And dress to impress as the most festive dressed guest will win a turkey takeaway for four. The festive brunch runs from 1pm – 4pm with live music courtesy of legendary crooner Ciaran Fox. Prices start at AED195 for soft drinks and AED325 for a free-flowing package with house beverages and a variety of festive cocktails. Children can join for only AED95 while kids under four dine free.