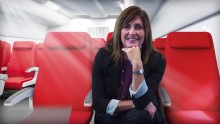 Sabre Corporation expects to achieve several critical milestones on its journey to offer NDC-enabled solutions by the end of the year. Intelligent retailing that leverages Sabre's data, depth and industry leadership will bring value to airlines and agencies, and customers will have the ability to offer personalised shopping experiences similar to world-class retailers in other industries.
"NDC standards introduce tremendous opportunity for Sabre's business, our customers and the industry overall – to the ultimate benefit of travelers as we model a new and differentiated travel experience," said Kathy Morgan, Sabre vice president of strategic initiatives. "To bring the promise of NDC to life, our capabilities will go beyond shopping and booking and will integrate with the retailing, distribution and fulfillment systems that support the travel ecosystem,"Morgan said.
Morgan leads Sabre's company-wide effort to invest Beyond NDC across its retailing, distribution and fulfillment solutions. Sabre is uniquely positioned to deliver technology that shapes a traveller's end-to-end journey from offer creation through fulfillment. In 2018, Sabre plans to launch new service-enabled APIs and enhanced capabilities in the Sabre Red Workspace that will allow customers to shop and book NDC content alongside traditional content. To prepare for this functionality, the company is already working closely with customers including Flight Centre Travel Group, one of the world's largest travel agency groups, and Sabre expects to begin a pilot program with additional agency and airline customers in the third quarter this year.