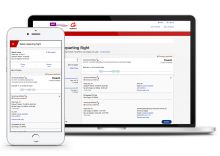 Sabre Corporation is launching a fast, design-led mobile experience to provide business travellers a simple way to book and manage in-policy travel on the go. The GetThere user experience gives them more self-service options and delivers an optimal search, shop and book experience whether on mobile or desktop. The GetThere team conducted hundreds of qualitative usability research sessions to evaluate what travellers and travel managers truly want and need out of an online booking tool. The newly redesigned GetThere applied the results to create a new modernized travel experience that empowers travelers to make smarter in-policy booking decisions. Other new GetThere features include:
A simplified and responsive design, fully optimized for a mobile road-warrior
An intuitive booking workflow powered by Sabre's technology that is accessible and consistent on any device – desktop, tablet, and smartphone
Sabre's air merchandising capabilities to support airlines' branded fares with existing travel policy
"Today's business traveler wants the convenience of self-service solutions. Our new traveler-centric design in GetThere puts the user first with new mobile capabilities and relevant content that's essential for a smarter travel program," said Wade Jones, interim president of Sabre Travel Network. "Travel managers and travelers will also have access to more content and the ability to differentiate various fare offerings from airlines including branded fares – helping business travelers get the exact services and features that they need to be productive."
With more airlines tailoring products for business traveler needs, corporations require an enriched marketplace of negotiated fares, amenities for a mobile workplace, and customization within the managed travel program. With the new GetThere, travel managers have more options to use fare rules to identify Out-of-Policy fares and control whether certain flights are displayed within the search results. Business travelers have access to the full breadth of available fares offered by the carrier, beyond lowest air fare, at the touch of their fingers. This combination of enhanced features can increase adoption, in-compliance online bookings and reduce travel costs for corporations.