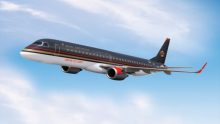 As part of the airline's strategic plans to expand its global network and welcome new visitors to Jordan, Royal Jordanian Airlines (RJ) has announced plans to introduce a new, direct route between Amman, Jordan and Stockholm, Sweden, beginning of May 29. The twice-weekly flights will connect passengers traveling between the two cities in just around four to five hours. The new Stockholm expansion is part of RJ's new strategy to focus on driving tourism into Jordan and becoming the airline of choice for the Levant region. Passengers throughout Northern Europe will have direct route to the Jordanian capital from the capital of Sweden.
Royal Jordanian Airlines Chief Commercial Officer, Karim Makhlouf, said, "It is my great pleasure to announce our new route to Stockholm, Sweden, which will make it easier than ever for tourists from Northern Europe and especially from Sweden to discover Jordan's incredible wonders. Helping to promote and drive tourism to the Kingdom is a key focus of our new strategy—as is our emphasis on further developing Amman as the primary gateway to the Levant, by offering improved connectivity to our broader network. This newest route is yet another step in line with RJ's ambitious five-year growth plan, which includes increasing our current fleet of 24 aircraft to more than 40 aircraft in the coming three to five years."
We want to welcome Royal Jordanian Airlines to Sweden and Swedavia Airports with the new route to Amman. The route will be an addition to the existing offer of routes available at Arlanda and it is evident that there is demand from travelers who wish to visit their friends and family in the Middle East, as well as from tourists who wish to discover something new", says Elizabeth Axtelius, Director Aviation Business at Swedavia.
As part of this push to promote national tourism, RJ continues to build upon and enrich its partnerships with tour operators and travel agencies across the globe—including in Germany and Sweden, where RJ recently hosted a networking event for the travel and tourism sector. Sweden and Jordan have long enjoyed close diplomatic ties—this past November, His Majesty King Abdullah II and Her Majesty Queen Rania Al Abdullah hosted Sweden's King Carl XVI and Queen Silvia on an official state visit to Jordan—and RJ seeks to further expand these amicable relations to the wider populaces of both countries.
In line with the airline's strategic plan to modernize its narrow-body fleet, Royal Jordanian Airlines recently announced the lease of up to 40 new narrow-body aircraft, including a fleet of brand-new Airbus A320neos and E195-E2 Embraer commercial jets.