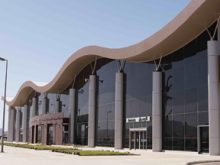 Royal Commission for AlUla (RCU) announced the completion of the second phase of AlUla's airport development project, a key component of its strategy to position the city as a major tourism destination and logistics hub. Encompassing the renovation of the airport's main terminal building and the expansion of the apron to add 6 Code C and larger 4 Code E Aircraft Stands – an additional 150,000 metre square of taxiways with 2 additional connections to the runway – the second phase of the development project increases the airport's annual capacity from 100,000 to 400,000 passengers. The completed Airside Works (Aprons & Taxiways) can facilitate the 15,000 aircraft movements per year required to serve the over 2,000,000 visitors to AlUla in 2035 and beyond.
The development project also included the construction of a VIP lounge terminal, built using local materials and reflecting the picturesque AlUla environment, its rich heritage and includes a range of other amenities to improve passenger experience. The completion of the second phase of the airport development project is in line with RCU's aim to continue reopen the area in readiness to receive visitors in October.
Adil Jamil, Head of Infrastructure Development and Asset Management, RCU commented, "Vital infrastructure projects such as this provide the foundations for RCU's sustainable growth strategy. The airport is continuing to create a range of employment opportunities for local residents as it emerges as a logistical hub catering to the northwest of the Kingdom."
In cooperation with Saudi Arabian Airlines, the Royal Commission for AlUla has also facilitated the resumption of flights from Riyadh to AlUla. Four flights currently run each week and it is expected that flights to AlUla from Jeddah and other domestic cities will also resume soon. The airport will also be able to receive direct international flights.