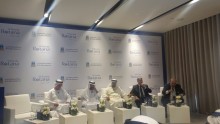 Rotana once again strengthens its hub in Dubai by opening its latest five-star property and hotel apartments overlooking the Dubai Creek. Al Bandar Rotana consists of 190 rooms and suites in addition to Club Rotana rooms with additional benefits including an Executive Lounge and personalised services. Designed to suit the needs of long-stay visitors, Al Bandar Arjaan by Rotana offers 90 fully-furnished studios and apartments with options ranging from spacious studios to three-bedroom apartments. The rooms, suites and apartments, which offer expansive views of the creek, are all equipped with modern technology and home comforts. In addition to a Business Centre, the properties offer six state-of-the-art meeting and conference facilities equipped with the latest audio-visual equipment to cater to a wide range of occasions.
Mohammed Al Badie Bin Youan Al Dhaeri, Chairman, Al Ain Ahlia Insurance Company, said, "With its solid business growth and strong portfolio, Rotana has established its name as the bellwether of the region's hospitality industry."
"With its vibrant economy and thriving tourism sector, Dubai has always been a favourable market for the hospitality sector to flourish and it still promises a brighter future for the sector with occupied room nights forecasted to reach 35.5 million annually in 2019," said Guy Hutchinson, Chief Operating Officer, Rotana.