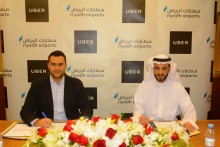 Riyadh Airports Company, the company responsible for managing and operating King Khalid International Airport (KKIA) in the Saudi capital,  and Uber have recently signed an agreement, putting the onus of transporting passengers to and from terminals 1, 2 and 5 of KKIA on Uber. CEO of Riyadh Airports, Saleh Al Rasheed, said,  "This agreement is in line with Riyadh Airports' policy of developing strategic partnerships that can help them enhance the experience of the passengers travelling through King Khalid International Airport and ensure that their satisfaction is aided by the continued availability of reliable and efficient services".
Commenting on the announcement, Zeid Hreish, General Manager of Uber KSA said "This is a significant announcement for us, as the partnership reinforces Uber's commitment to providing safe and reliable transportation everywhere and for everyone, and is in line with the Kingdom's move towards working with progressive companies like Uber."
Riyadh Airports is also currently moving forward with plans to upgrade KKIA infrastructure and expand with new services and facilities.