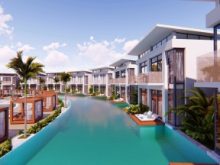 Rixos Premium Magawish Suites & Villas will take over Hurghada as the brand-new property sets to open on March 15 at the Red Sea Coast. Situated at the heart of the bustling town, the 5-star property passes through a spacious land-scape of over 255.000 meter-squared premises to flash an architectural masterpiece. Aside from the iconic sights, the signature Rixos quality of services is made better with its first-class suites and villa facilities, meeting halls, vast food and beverage options, world-class leisure, sports, entertainment, and spa.
Discerning guests and business groups visiting Hurghada will be spoilt for choice as the latest hotspot offers impeccable features to suit outright needs. Vacationers can indulge in an elegant array of 410 suites and villas with the smallest suite flaunting a 53 meter-squared space among other options of Superior Suites, Deluxe Suites, and Lagoon Swim-up Suites with a scenic garden setting, pool, and sea views. Stepping up a notch, guests can take pleasure over a pool area boasting tailored services by a private butler at the Pool Villas and Executive Pool Villas. Corporate guests can conduct conferences and tackle agenda across the property's exclusive meeting suites, VIP hall, and presidential office with special services to fulfill business requirements.
Experience the tastes of the world with endless choices of abundant flavors to satiate your cravings. Relish with international cuisines laid out at the open buffet for an all-day dining experience at the property's main restaurant, or choose to satisfy your craving out of the 5 A La Carte outlets. From the Turkish delights of Lalezar, the Brazilian gourmet of La Churras-caria, up to other indulgences at Salt, Asian, and People's, the a la carte scene offers an as-sortment of menu to fascinate diverse palates. With 10 bars located across the property, de-light in a selection of imported premium beverages to cheer every occasion.