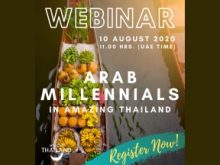 Presentation was started off by the Marketing Manager of Thailand Tourism Office in Dubai Hatsanai Chaisri. Some of the most important facts were shared by Hatsanai. He stated that Thailand is known as the hub of travel in Southeast Asia. It is a destination in the rich center of Asia, Bangkok has received the fourth most visited destination of the year for the second consecutive year by mastercard. He reiterated that this virtual show is a recap of the new products on offer in Amazing Thailand.
Chawarot Chankiatthitikul (TAT Dubai and Middle East Marketing Executive) started off with Shopping paradise in amazing Thailand.Dining options from interesting seafood options to some of the top notch dining destinations were stated by Chan Rujikietkumjorn (TAT Dubai and Middle East Marketing Executive). From the north of the country in Bangkok China Town to the other areas were covered with all the variety of food and dining options much loved by visitors from the Middle East. Artitaya Intaratoot (TAT Dubai and Middle East Marketing Executive) shared some of the most interesting instagramable areas of Thailand as she explained about the various destinations for sightseeing. She started with Flower farms in Chiang Mai where you can actually visit a flower garden with various accessories and it is an exclusive area which needs to be booked prior as they only allow 200 people at a time.
Next up was Atiwan Saengla – Senior Sales Manager – Leisure, Sofitel Bangkok Sukhumvit shared some of the most important facts about the flagship hotel Sofitel Bangkok managed by Accor. Next to the hotel are malls and shopping centers that would give you a really great retail experience. Followed NapatWatthanasan – Senior Sales Manager – The Peninsula Bangkok that shared details about the property and the many areas it has developed for visitors.