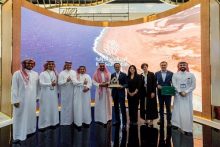 Red Sea Global (RSG), The Red Sea and Amaala, has become the first company in Saudi Arabia to receive the prestigious Mostadam Diamond Certification for its flagship Turtle Bay Hotel. Mostadam's expertise and guidance is playing a pivotal role in creating vibrant and sustainable communities in the Kingdom. Red Sea Global has worked closely with the Ministry of Municipal, Rural Affairs and Housing to help define the innovative Mostadam criteria. Together, they are creating vibrant and sustainable communities in the Kingdom, paving the way for a more sustainable and ecologically responsible housing sector for current and future generations.
This esteemed accolade, received under the patronage of HE Minister of Municipal, Rural Affairs and Housing, Majid bin Abdullah bin Hamad Al-Hoqail, recognizes RSG's unwavering commitment to sustainability and green building practices, including energy efficiency, renewable energy uptake, water use efficiency, improved connectivity, enhanced health and comfort, as well as integrated construction waste management. The hotel comprises 144 keys arranged in multiple blocks overlooking the Red Sea.
"We consistently embrace sustainable practices in our developments, from design through to operations. We have chosen to power our destinations using 100% renewable energy sources and are incorporating state-of-the-art waste management systems into our infrastructure. This certification is a testament to our unwavering commitment to sustainability, regenerative tourism development and environmental stewardship." said John Pagano, Group CEO of Red Sea Global.
Red Sea Global has constructed 5 solar farms to enable the first phase of The Red Sea to be off grid powered solely by sunlight, with more than 760,000 solar panels, in place. The group also announced a multi-utilities concessions agreement for Amaala this week, and across the two destinations, expects to save one million tons of C02 emissions annually.
The Red Sea is also home to the regions largest landscape nursery, which has already grown roughly 4 million trees, plants and shrubs. In July, RSG also opened a state-of-the-art nursery, where employees will care for mangrove seedlings for approximately eight months until they grow to 80cm. They will then transplant the young trees to dedicated parks across the destination, with the aim of planting 50 million mangroves by 2030.
The Red Sea will welcome guests in the coming months when the first three hotels open their doors and Red Sea International Airport begins welcoming domestic flights. Upon full completion in 2030, the destination will comprise 50 resorts, offering up to 8,000 hotel rooms and more than 1,000 residential properties across 22 islands and six inland sites. The destination will also include luxury marinas, golf courses, entertainment, F&B, and leisure facilities.
Phase One of Amaala – focused on the Triple Bay masterplan – is well underway, with the first guests set to be welcomed in early 2025. It will consist of eight resorts offering upwards of 1,200 hotel keys. Once complete, Amaala will be home to more than 3,900 hotel rooms across 29 hotels, and approximately 1,200 luxury residential villas, apartments, and estate homes, supporting high-end retail, fine dining, wellness, and recreational facilities.