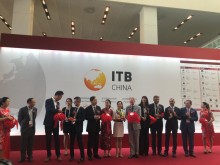 The second edition of ITB China opened doors with an expected attendee number of 15,000, more than 700 exhibitors from 80 countries and around 800 buyers at the Shanghai World Expo Exhibition and Convention Centre, with high-ranking industry representatives attending the occasion. The three-day B2B travel trade fair shows significant growth after its premiere. The success of ITB China, taking place from May 16 to May 18 in Shanghai, is reflected in the 50 per cent increase of the gross exhibition area compared to last year. ITB China is targeted exclusively by handpicked B2B visitors involved in China's travel industry selected strictly in accordance with the interests of the exhibiting companies. A total of 2,700 attendees are expected to take part in the lectures, discussions and keynotes of the ITB China Conference, supported by more than 120 industry speakers. The recognizsd travel think tank, running parallel to ITB China, will invite business leaders and experts both from China and abroad to deliver their expertise and ideas on market hotspots in the industry.
Christian Göke, CEO Messe Berlin said,  "For the next three days all eyes will be on ITB China in Shanghai. The demand from exhibitors has significantly increased and ITB China 2018 attracts growing numbers of Chinese decision-makers. After its great premiere last year ITB China continues riding the wave of success".
On the eve of the show, the second ITB China kicked off with a dinner with 600 senior guests from the global and Chinese travel industry, among others Bourne Sun, Senior Vice President, Ctrip and Steven Shu, Chief Marketing Officer, Meituan-Dianping.