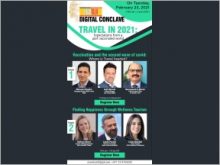 The First TravTalk digital conclave for 2021 kicks off tomorrow with 6 key industry leaders in two sessions back to back. The first session will focus on Vaccination and the second wave of covid; where is travel headed? From 11.30 am to 12.30 pm (UAE time) with Mamoun Hmedan – Managing Director  EMEA- Wego, Arijit Munshi- General Manager EMEAI -Tune Protect, and Ramsumesh Menon – Chief Executive Officer -Go Gosaibi Travel  – Bahrain.
Wellness tourism is an integral part of the Middle East the second session will focus on finding happiness through wellness tourism. The session starts at 1 pm (UAE time) until 2 pm with Laszlo Puczko -CEO & Co-founder – Health Tourism Worldwide, Linda Abdulla – CEO and Founder – Oryx Healthcare Consultancy and Kathryn Moore – Founder and Managing Director Spa Connectors, Global
Over the past year, TravTalk has been instrumental in keeping the industry positive with its signature Digital conclaves. As we embark on a new year with a novel line of thought consisting of a set of brand new trends, vaccinations, and digital passports spreading its hope once again in the industry, we will have a tête-à-tête with stalwarts in the industry about an exclusive update.