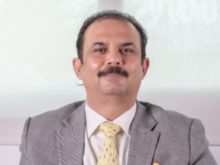 Ras Al Khaimah International Airport (RAK Airport) will receive the first commercial flights from Indian value carrier SpiceJet today. The development signals a steady return to normal economic activity following the COVID-19 pandemic, spokespersons for the two operations said, noting that with SpiceJet's connection to 28 destinations across the Indian sub-continent and RAK Airport's position as an expanding travel and logistics hub, the development is poised to create notable economic growth and momentum in both countries, providing a major boost to the UAE's efforts to restore activity across all its vital sectors to pre-COVID-19 levels.
"The Indian expatriate community in the UAE numbers almost 3.5 million people and constitutes 27 percent of the population, making connectivity between our two countries an imperative. With UAE and India being each other's largest trading partners, RAK Airport has an essential role to play in the business and economy of the emirate, especially in view of Ras Al Khaimah's efforts to diversify its economy from heavy industry to one that is knowledge-based and underpinned by human capital and tourism," said Sanjay Khanna, CEO of Ras Al Khaimah International Airport."Ras Al Khaimah was named Gulf Tourism Capital for 2021, holding onto the title for the second year running and providing a significant boost to the Emirate's plans to attract 2.9 million visitors by 2025,and we aim to play an important part in helping achieve this goal."
"SpiceJet has played a pivotal role in opening up the UAE to Indian travellers and reconnecting families. As we enter the post-coronavirus phase, we are looking forward to continuing to play a vital role in Ras Al Khaimah's ongoing growth and development, especially its tourist sector, which is anticipated to experience a surge in visitors now that travel restrictions are slowly being eased," said Ajay Singh, CMD, SpiceJet.