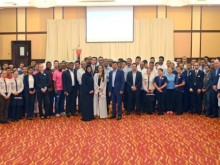 Ramada Hotel & Suites Ajman announced its membership in United Nations Global Compact (UNGC), the largest corporate social responsibility initiative in the world. To commence its membership, the hotel associates gathered for an orientation conducted by Ayla Bajwa and Hidaya Mansoor Alfalasi, United Nations Global Compact local network representatives in the UAE. The session provided an overview of the ten fundamental principles of the initiative, which are in the areas of Human Rights, Labour, Environment, and Anti-Corruption, as well as a presentation on The Global Goals for Sustainable Development.
Iftikhar Hamdani, General Manager, Ramada Hotel & Suites Ajman enthused: "We are honoured to be part of the UN Global Compact! Our management has always ensured the welfare of our work force and has been actively involved in various sustainable initiatives and charitable projects over the years. Through our membership, we seek to enrich our current business practices, and improve our existing CSR programmes. We will strive to become responsible role models in our field and in the community, and ultimately inspire our industry peers to do their share for a socially responsible global economy."
The United Nations Global Compact is a voluntary initiative to promote sustainable development and good corporate citizenship. The initiative was launched in the UAE in May 2015. Established in 2002, the UN Global Compact now has thousands of participating businesses and stakeholders from over 160 countries.