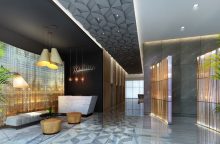 Radisson Hotel Group, one of the world's leading hotel companies, has set a record in its North African expansion, with the signing of nine hotels, to date this year. This has boosted the Group's North Africa portfolio, comprising of of the Maghreb countries along with Libya and Egypt, to over 30 hotels in operation and under development, placing them firmly on track to reach over 50 hotels by 2025.
Alban Mabille de Poncheville, Director, Development, North Africa at Radisson Hotel Group says, "We are delighted to be leading the market in North African hotel expansion, setting a record for ourselves and the industry. Our flagship brand, Radisson Blu, has been one of the leading brands in the region and as we continue to grow and diversify across North Africa, we look forward to capitalizing on our brand name and introducing new brands in the area such as Radisson, in the upscale segment and Radisson Collection, our entry level luxury brand. The market has shown a great potential in various segments but also in different product types, from resorts to city hotels but also serviced apartments and boutique hotel offerings. We aim to further accelerate our presence across all North African countries and key cities and also expand in new touristic areas as recently announced with the launch of our resort offerings across Morocco."
In response to the need for independent hotel owners to gain further brand exposure and consumer confidence, the group launched a new brand, Radisson Individuals, aimed at individual hotels with strong service scores and existing hotel identities who wish to remain independent or may be considering overtime transitioning to one of the group's core brands.
Mabille de Poncheville adds, "This initiative further demonstrates the ability for our group to provide solutions that not only supports our partners but also reflects our focus on conversions with a tailored offering which provides all the benefits of our network and scale with limited pre-requisites."
The results of the pandemic have shown two major trends: the resilience of serviced apartments across the industry and the rapid growth of leisure and domestic demand.  The Group's recent signings respond to those trends but also cement their future in benefiting of the post-covid recovery with a balance and adequate presence covering all segments and capitalizing on market priorities.
"Conversions have and will continue to remain a priority in our expansion strategy, especially post-pandemic, as there is less liquidity for newer developments. We therefore seek to form wider partnerships and strategic ventures with local or regional chains and forge ahead with our city scale and critical mass strategy," says Mabille de Poncheville.
As part of the Group's new African development strategy, the African regions have been subdivided based on priorities, focus and potential scale. Egypt and Morocco have been identified as the Group's focus countries for North Africa due to the opportunity to leverage further synergies and operational support through a clear development plan in these markets.