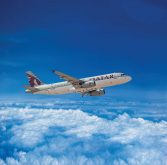 Qatar Airways announces increase in flights from Abu Dhabi in the United Arab Emirates, operating triple daily flights from the Emirate to Doha, commencing 10 July 2022.
The additional flights will provide passengers with more flexibility and better connectivity to Qatar Airways' extensive global network. With this increase in its services, the airline will operate 21 weekly flights from Abu Dhabi, and a total of 56 flights from Qatar Airways' three gateways in UAE; Dubai, Sharjah and Abu Dhabi.
Qatar Airways Group Chief Executive, His Excellency Mr. Akbar Al Baker, said: "We are pleased to offer seven additional weekly flights to Abu Dhabi, providing passengers from UAE with more connectivity and convenience. By offering these additional flights between Doha and Abu Dhabi, passengers can enjoy more of our extensive network, and increased flexibility in making their travel plans via the best airport in the world, Hamad International."
Passengers from Abu Dhabi can benefit from Qatar Airways' expanded network in USA, Europe, Asia and Africa. They can also enjoy the airline's newly integrated rewards currency – Avios, providing passengers even greater opportunities to accumulate points and leverage exciting innovations in redeeming and spending their rewards. In addition, Qatar Airways loyalty programme members will retain their well-earned rewards balance and will be able to continue enjoying the redemption opportunities they currently have.
A multiple award-winning airline, Qatar Airways was announced as the 'Airline of the Year' at the 2021 World Airline Awards, managed by the international air transport rating organisation, Skytrax. It was also named 'World's Best Business Class', 'World's Best Business Class Airline Lounge', 'World's Best Business Class Airline Seat', 'World's Best Business Class Onboard Catering' and 'Best Airline in the Middle East'. The airline continues to stand alone at the top of the industry having won the main prize for an unprecedented sixth time (2011, 2012, 2015, 2017, 2019 and 2021).