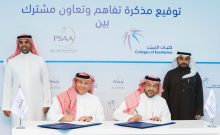 Prince Sultan Aviation Academy (PSAA), a subsidiary of SAUDIA Group, has signed an MoU with the Colleges of Excellence Company in order to establish a general framework aimed at exchanging experiences, information, and launching numerous initiatives in the field of training and development. The agreement outlines the best ways to share information and experiences in the training and education sectors, in addition to organizing many workshops and joint training courses to help achieve common goals. His Excellency Eng. Ibrahim Al-Omar said: "This partnership highlights one of our main objectives, which is enhancing our employee experiences by providing them with training and qualifications which also extends to various government and private sector employees in order to contribute to the localization of jobs. The trainings will be available to industries and services related to aviation or by providing qualitative training programs for other parties to serve their development and localization plans."
His Excellency Dr. Ahmed bin Fahad Al-Fahaid said: "The Technical and Vocational Training Corporation is committed to foster the partnerships between public and private sectors due to their positive impact in providing qualified national cadres armed with the highest levels of advanced training. These partnerships also contribute to supporting the Kingdom's localization plan by providing training solutions to Saudis. We appreciate The Colleges of Excellence Company's efforts in qualifying national competencies and its role in providing job opportunities for graduates across all fields."
Prince Sultan Aviation Academy is one of the leading entities specialized in technical and administrative training within the aviation industry. PSAA is equipped with all the qualities required for success including training facilities, equipment, and qualified employees which allows the academy to hold a variety of intensive training programs in the administrative and financial fields all year round. PSAA plays a pivotal role in providing advanced training for pilots, navigators, air dispatchers, aircraft maintenance technicians and others specialized jobs in the aviation sector.
The Colleges of Excellence Company was established to be the leading authority for applied training in the Kingdom in cooperation with the best international practical training organizations. It offers quality vocational training programs through public private partnerships with global top level training providers in the Kingdom, focusing on employer needs and enabling students to obtain world class qualifications.
In the presence of His Excellency Eng. Ibrahim Al-Omar, Director General of SAUDIA Group and His Excellency Dr. Ahmed bin Fahad Al-Fahaid, Governor of the Technical and Vocational Training Corporation, the agreement was signed at the International Aviation Technical College in Riyadh by Captain Ismael Alkoshy Managing Director of Prince Sultan Aviation Academy, and Eng. Ayman Alabdullah CEO of Colleges of Excellence.