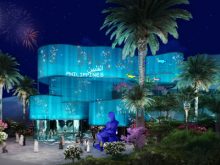 Philippine government has announced that the construction of the Philippines Pavilion at Expo 2020 Dubai has already reached 87 per cent completion. Philippine Department of Trade and Industry (PDTI) and Commissioner General Secretary Ramon Lopez said that 'Bangkóta' is on track of its scheduled handover in March 2021, with the teams involved exerting full efforts. Bangkóta also highlights the country's passion for sustainability—sourcing majority of its materials from the local markets of UAE. According to Lopez, such readily available materials are among the contributing factors that led to them staying on track of their schedule despite the movement restrictions caused by the pandemic.
Lopez said, "The Pavilion's concept, including the materials to be used, has been well thought of by the creators, a reason it became easier for the team to go ahead and build the design. While recent restrictions brought about by the pandemic posed a challenge, they also unleashed within the team their resourcefulness and creativity—allowing them to pull such magnificent work without any delays."
Omar Shehadeh, Chief International Participants Officer, International Participants at Expo 2020 Dubai, also commended the efficiency of the team in terms of the construction of the pavilion, saying, "The sheer passion of the people behind the Philippines Pavilion is truly commendable, and I am honoured to have witnessed their creativity and hard work coming to life through Bangkóta. I am confident that Filipinos in the UAE will be further proud of their identity once they get to witness what the Philippine team has prepared for them in the upcoming Expo 2020."
Hjayceelyn Quintana, Philippine Ambassador to the UAE , for her part, expressed her pride for the team behind the pavilion, saying, "This will boost the name of our country at Expo 2020 and will no doubt create a strong presence for our community in what will be the largest event ever held in the MENA region. Bangkóta will deploy leading-edge art, architecture, and design to present a nation bound by zealous interconnectivity, a culture of compassion, and a tropical, fevered imagination. It highlights the progressive development of the nation through the state-of-the-art portals that promise immersive experiences for visitors—allowing them to embark on a journey of discovery of the nature of the Philippines," she said.