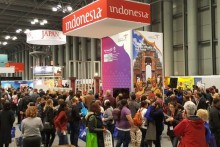 Nordic Travel Fair (MATKA) held from January 16 to 20, 2019 in Messukeskus, Helsinki in Finland this year marked 30 years as the biggest travel industry events in Northern Europe with 940 exhibitors, 86 destinations under the theme 'hidden treasures.' The first two days were only for travel industry professionals with workshops and presentations and the last three were dedicated to consumers looking for travel deals and inspiration.
MATKA targets travel industry professionals from all around the world. Buyers and suppliers, especially from Finland and Nordic countries find the event valuable. They focused on workshops and networking to boost sales, and on presentations relevant to industry professionals. Sustainable travel and modern sales are highlighted in MATKA 2019. As Nordic destinations is growing among Middle Eastern travellers, MATKA provided a good platform to take a look at these destinations and the travel experiences that are offered for visitors.
2019 had a strong focus on responsible and sustainable travel as well as food tourism with over 70,000 visitors. A number of exhibitors from Middle East has grown in the recent years and in 2019 destinations such as Sharjah and Ras Al Khaimah from the United Arab Emirates.