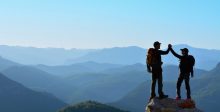 Bavaria-based Outdooractive, Europe's largest outdoor portal for hiking, cycling, mountain biking and skiing, has acquired UK-based ViewRanger, featuring a range of additional destinations and exceptional routes and trails, across the globe. ViewRanger, which is based in Cambridgeshire, in the UK, is a GPS navigation app which runs on iPhone, iPad, Apple Watch, and Android smartphones and watches. It is used by more than 4.6 million explorers around the world to plan, navigate, and share outdoor adventures.
Hartmut Wimmer, the Founder and CEO of Outdooractive, commented, "Our two brands complement each other perfectly and we have already been working closely with ViewRanger to consolidate our combined routes and showcase additional destinations to a wider community of subscribers across both platforms. Our users share a passion for exploring and enjoying the outdoors. By bringing together insider tips from travel writers and tourism partners with recommended routes from publishers and other enthusiasts, we help them to plan their adventures." Craig Wareham, the co-founder of ViewRanger said, "Integrating our technology with the Outdooractive platform, not only improves the user experience, but adds significant value, to trade professionals looking for a comprehensive resource."
The outdoor adventure market in Europe and the UK, is expecting major growth, as social restrictions, in the wake of the COVID-19 outbreak, are gradually lifted. Initially research suggests that staycations and local tourism will be the first to recover, but given time international visitors will want to experience the great outdoors as well. "We firmly believe that healthy activities in tranquil open countryside, staying in small family-run guesthouses and hotels, will be in great demand, and offers a more sustainable alternative to busy beach resorts and other mainstream attractions. Indeed, creating awareness of hidden gems off-the-beaten track means visitors are encouraged to stay longer to discover a region, generating greater value for these destinations," added Wimmer.