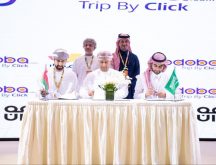 On the sidelines of the recently concluded WTTC summit, a memorandum of understanding was signed between the Sultanate of Oman and the Kingdom of Saudi Arabia as part of their participation in this prestigious international forum. This agreement aims to develop the tourism sector of both countries through the exchange of experience, active participation in various tourism-related events, and mutual cooperation in several areas and initiatives related to the tourism sector.
As part of the MoU, the OMRAN Group and the Godoba platform, and the Saudi Arabia-based Al Matar Group for Travel and Tourism, signed a strategic partnership agreement as one of the first initiatives under the new MoU, further strengthening the role of the private sector in supporting the tourism development efforts of the two brotherly nations. The agreement aims to drive digital transformation in the tourism sector through the partnership between the Al Matar App, known to be one of the fastest-growing apps in the region over the last three years, and the Godoba platform, which received the Best Arab OTA Award in 2019. The agreement is expected to pave the way for both parties to expand regionally and internationally. The signing of the agreement was overseen by His Excellency Salem bin Mohammed Al Mahrouqi, the Minister of Heritage and Culture for the Sultanate of Oman, and His Excellency Ahmed Al Khateeb, Minister of Tourism for Saudi Arabia.
For over 30 years, WTTC has conducted research on the economic impact of Travel & Tourism in 185 countries and issues such as overcrowding, taxation, policy-making, and many others to raise awareness of the importance of the Travel & Tourism sector as one of the world's largest economic sectors. The WTTC's annual Global Summit is the most influential Travel & Tourism event on the calendar. This year, industry leaders gathered with key government representatives to continue aligning efforts to support the sector's recovery and move beyond to a safer, more resilient, inclusive, and sustainable future.
As a member of the WTTC, the OMRAN Group continuously seeks opportunities to establish strategic partnerships with tourism industry leaders to enhance the potential of Oman's tourism sector. As a result, the Group reinforces its position as a leading player in developing and strengthening Oman's tourism industry in line with the objectives of the National Tourism Strategy.