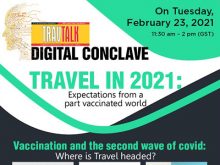 In a few hours from now, you can join in the conversation with six key industry leaders who would discuss the future of travel in this part vaccinated era in TravTalk Digital Conclave at 11.30 am UAE time. According to reports from various countries every day there is quite a number of people being vaccinated across the globe, from developing to developed countries. At this time of the pandemic the whole world has embraced the importance of protecting citizens and visitors hence the drive and motivation to encourage safety has become a key element in today's context.
The first session will focus on Vaccination and the new variants of covid; where is travel headed? From 11.30 am to 12.30 pm (UAE time) with Mamoun Hmedan – Managing Director  EMEA- Wego, Arijit Munshi- General Manager EMEAI -Tune Protect, and Ramsumesh Menon – Chief Executive Officer -Go Gosaibi Travel  – Bahrain.
Wellness tourism is an integral part of the Middle East the second session will focus on finding happiness through wellness tourism. The session starts at 1 pm (UAE time) until 2 pm with Laszlo Puczko -CEO & Co-founder – Health Tourism Worldwide, Linda Abdulla – CEO and Founder – Oryx Healthcare Consultancy and Kathryn Moore – Founder and Managing Director Spa Connectors, Global
TravTalk has been instrumental in keeping the industry positive with its signature Digital conclaves. As we embark on a new year with a novel line of thought consisting of a set of brand new trends, vaccinations, and digital passports spreading its hope once again in the industry, we will have a tête-à-tête with stalwarts in the industry about an exclusive update.