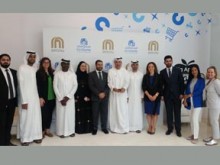 As Sharjah drives towards welcoming 10 million tourists by 2021, the retail tourism sector is being developed by Majid Al Futtaim. The latest family lifestyle and entertainment tourism destination is the Sharjah City Center which was refurbished and expanded with a cost of over AED 260 million to a spacious 51,000 plus sq ft. area housing over 23 new brands, unique cinematic experience with Michelin chef served menus and 1400 plus new parking slots.
"We work very closely with hotels, agents and Sharjah tourism to ensure that we present a good retail tourism destination which could attract tourists from all over the world. We are constantly working towards reimagining the retail and leisure landscape to meet the evolving demands of our discerning shoppers and retain our position as their preferred shopping destination in Sharjah. The new, revitalised City Centre Sharjah is a result of valuable feedback from our long-standing customers who seek trendy international brands, exciting F&B concepts that appease a plethora of tastes and a destination where they can spend hours with their loved ones enjoying the wide variety of entertainment options," said Fuad Mansoor Sharaf, Managing Director for Majid Al Futtaim Properties, Shopping Malls (UAE, Bahrain & Oman).
The mall has been redesigned with a skylight roof to allow for more natural light and spacious storefronts that extends a fresh and contemporary feel to make every visit pleasurable. Keeping accessibility and convenience of shoppers at the heart of the project, City Centre Sharjah has revamped the carpark with 1,426 parking bays and easy entry and exit routes close to the mall's anchor stores.