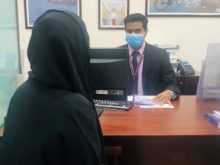 Portugal Passport Collection Centres jointly launched by the Embassy of Portugal in the UAE and VFS Global for citizens of Portugal living in the United Arab Emirates (UAE). Officially launched on August 16, 2020, VFS Global's Portugal Passport Collection Centres in Abu Dhabi and Dubai will ensure the safe and secure delivery of newly issued passports to customers, while the Embassy of Portugal in Abu Dhabi will continue to accept applications for issuance and renewal of passports. The centres are operational from Sunday to Thursday, from 09:00 AM to 05:00 PM.
Chris Dix, Head of Business Development, VFS Global said, "With the launch of the new centres, we further enhance our relationship with the Embassy of Portugal in the UAE. Outsourcing the passport collection process to VFS Global gives the Embassy a trusted partner with established infrastructure and expertise in handling sensitive documents. We are delighted to provide a convenient and secure passport collection platform to Portuguese nationals in the UAE.
In order to ensure a safe environment for employees and customers, VFS Global has established standardised protective measures to be followed across the centres including specific social distancing and sanitation mandates. All customers are subjected to body temperature checks at the entrance to assess their health conditions. Any customer exhibiting COVID-19 symptoms, including high fever, cough and difficulty in breathing will not be permitted to enter the centre and requested to return once their health condition improves. Additionally, all customers and VFS Global employees are required to wear a face mask and gloves within the centre.