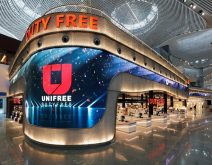 Unifree Duty Free has implemented state-of-the-art retail technologies at the New Istanbul Airport. These solutions – which rely on a cutting-edge network infrastructure from Swiss structured cabling specialist R&M – include three-dimensional holograms, enhanced digital signage systems, and touch-free digital shopping technologies.Offering an example of how its technology innovations strongly position Istanbul Grand Airport to ensure the safety and well-being of the ninety million travellers expected to visit the Duty Free zone annually, Osman Ayhan, Director of Information Technology at Unifree Duty Free said, "Enhanced digital signage systems give customers the opportunity to virtually try on luxury watches, jewellery and suits before they decide whether to buy or not." This touch-free experience will be especially important to travellers in the post-COVID world.
Ayhan explained that the decision to partner with R&M was based on a highly-positive recommendation from the airport's IT department which has itself utilised 5,400 km of copper cablings and 3,270 km of fiber-optic cabling from R&M for connectivity of critical airport IT systems. "R&M is characterised by its quality, innovation, fast delivery times, expertise, flexibility and modular products. We also see the team spirit at R&M, the back-office support and the special training of installers on-site as a distinct advantage," he said.
"We are extremely proud to expand R&M's footprint at the world's largest airport. Unifree has demonstrated a commitment to pioneering the new digital shopping experiences that will be essential to travellers in the coming months and years. The technologies we have provided serve as a reliable platform on which the company can continue to innovate with confidence in the performance, security and reliability of the underlying systems," said Nabil Khalil, Executive Vice-President of R&M Middle East, Turkey and Africa.