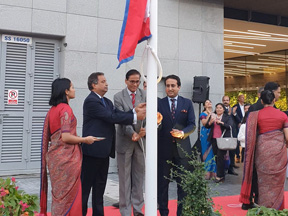 Nepal's CG Corp Global has been in Dubai through its business vertical for over 15 years, and the multinational is a major shareholder in the recently launched Taj Jumeirah Lake Towers. With this investment, CG Hospitality has established its headquarters in Dubai to cover the Middle East, Europe and Africa markets. Poised to be one of the most iconic hotels in CG Hospitality's portfolio, the hotel will also be the first in the world where Nepal's national flag will fly proudly, permanently.
Taj JLT Dubai is a timeless combination of century-old legacy and luxury woven together with contemporary sensibilities and quintessential Indian heritage. With Taj JLT Dubai, CG Hospitality brings luxury and ethical benchmarks to the UAE, and the iconic hotel will set a new benchmark in 'Business Luxury' in the region's hospitality sector.
With footprints in 20 countries around the world, CG Corp Global is a multinational conglomerate, spanning four generations. The global conglomerate's journey started in 1933 and it is currently Nepal's first and only billion-dollar corporation listed by Forbes.