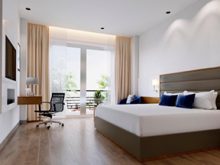 Morpho Hotels & Resorts announced its official brand entry into the Middle East market, and it will soon open its doors to the UAE residents and tourists in 2021. The advent of the pandemic has brought about a change in a traveller's expectations while choosing a hotel. The brand aims to revolutionise the hospitality industry in the region with the introduction of new hotels equipped with optimised and digitised operations with a strict adherence to the highest levels of hygiene and safety to deliver an exceptional experience for all its guests.
Dipinder Benjamin, CEO of Morpho Hotels and Resorts commented, "Despite the various challenges presented by the pandemic, we are committed to launch our next phase of growth bringing with us a fresh approach to the hospitality industry. The Morpho brand will provide affordable and accessible accommodation with the highest service standards in conjunction with intuitive technology."
The Group also announced its strategic partnership with Wakira Investments, a Dubai-based seasoned food investment company, which owns popular local restaurants including Kulcha King, Nom Nom Asia and El Greco. The partnership signals the Morpho hotels commitment to expand its footprint through joining forces with Wakira Investments in the Middle East, Africa, Turkey, Iraq, and the Levant.
Nader A. Bassit, CEO of Wakira Investments said, "Morpho's vision and ambition are a perfect match to Wakira's DNA. Morpho Hotels has a strong leadership team backed by decades of experience and innovative management systems. Wakira Investments is a blend of solid professionals and seasoned shareholders, both with many years of market experiences ranging from hospitality, retail, food processing, investments, to restaurants, and is keen on bringing growing concepts to its region. We look forward to collaborating together with Morpho to elevate the hospitality experience in the Middle East with a well executed concept that will resonate with business and leisure travellers."