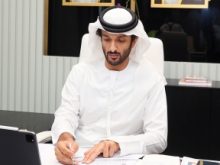 H.E Abdulla Bin Touq Al Marri, Minister of Economy, UAE reviewed a detailed report on the progress of efforts undertaken by the Interim Committee to Deal with the Impact of COVID-19 on the National Economy, during the Committee's fifth virtual meeting, which was chaired by His Excellency. HE was briefed on the economic and financial implications of all the measures adopted by the federal and local governments over the past months since the onset of the pandemic, and the extent of their effectiveness in supporting the country's business continuity during these times.
HE Eng. Mohammed Bin Abdul Aziz Al Shehhi, Undersecretary of the Ministry of Economy for Economic Affairs said that the Committee is continuously measuring their success in developing sustainable and practical policies and solutions that suit the needs of the business sector and contribute to its speedy recovery. He affirmed that the Ministry and its partners in the Committee will directly and periodically assess the implementation of packages and initiatives and will stand by all efforts to support business activities and develop the economy.
H.E. Saif Hadef Al Shamsi, Deputy Governor of the UAE Central Bank, explained the measures introduced by the Bank in detail, which helped many of small and medium enterprises (SMEs) continue their operations during the crisis, provided facilities for real estate buyers and improved liquidity of banks to meet the requests for lending and deferred payments.
In this context, HE Saif Ahmed Al Suwaidi, Undersecretary of the Ministry of Human Resources and Emiratisation for Human Resources Affairs, stated that the Ministry repaid about AED 8.3 billion of bank guarantees to employers, which represents about 50 per cent of the total bank guarantees until the end of last June after their owners met the conditions required.
H.E Sami Al Qamzi, Director General of Dubai Economy said, "Dubai Economy is keen to follow the directives of our wise leadership as reflected by our extending of the renewal of commercial licenses without mandatory renewal of rental contracts, and abolishing the necessity for initial payment to accept the installment of government fees for licensing and renewal of the license, in addition to exemption from fees imposed on conducting discounts and offers.