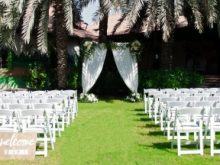 Meliã Desert Palm Dubai now welcomes guests to celebrate their special day in an elegant outdoor setting, especially in the winter months. With the recent announcement made by the Supreme Committee of Crisis & Disaster Management in Dubai permitting hotels to host weddings for up to 200 people. Meliã Desert Palm Dubai's rustic and chic venues deliver an exclusive experience, away from the city's noise, to not only host dreamy weddings but also proposals and bridal showers. For those looking to enjoy the outdoor splendour, the Olive Garden lends an air of history, nature and romance in an unforgettable location.The 300-year-old olive trees provide the perfect locale against the backdrop of the 160-acre polo field and the wide acres of green lawns graciously accommodate guests for a seated dinner with sufficient social distancing between the tables.For those that prefer being indoors for an intimate gathering, the spacious Polo Rooms can be transformed with gorgeous décor. The Polo Rooms provide complete private access so guests don't need to pass through the main hotel building.
Alternatively, Meliã Desert Palm Dubai offers a selection of exclusive, romantic spaces including The Courtyard, The Museum Lawn, The Green Veranda and The Argentinian Table, which can all be set up as per the couple's requirements, and in adherence with the guidelines issued by the government.
The resort's in-house wedding planner boasts excellent experience in the overall requirements of both local and international wedding parties and can organise western, Arabic and Asian-style weddings. The planner will guide the couple through selecting themes, dramatic backdrops, customised menus, floral arrangements, entertainment and lighting for the day, and assist in sourcing all the requirements.
Executive Chef Gaston Silva Herrera and his team can expertly handle sit-down silver service and carefully craft delicious set menus. The resort can also accommodate segregated female groups with solely female staff from waitresses and DJs to lighting experts.