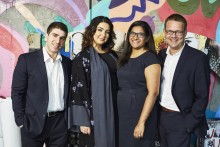 Tink Labs Limited has appointed a GCC Management Team to drive the rollout of its mobile travel solution 'handy' across the region. 'handy' is an innovative smartphone provided as a complimentary amenity in partner hotel rooms. It integrates the hotel services as well as offers travellers unlimited connectivity on the go, free-of-charge international calls and tailored travel guides. Heading the management team is Sverre Christiansen, who joins here as General Manager – GCC, Tink Labs Limited.
Talking about the product, Christiansen explains, "handy not only helps hotels with providing their guests with a device that assists them in travelling across new destinations through tailored city guides but also in extending their in-house marketing and concierge facilities via an easy-to-use smartphone. Moreover, available with pre-installed mobile applications, it can show details of discounts and promotions and allow visitors to remain in contact with their hotel and personal network at all times."
With the support of the Dubai Department of Tourism and Commerce Marketing (DTCM), Tink Labs has already delivered a successful pilot project in Dubai in association with Fairmont The Palm, Le Meridien Mina Seyahi, The Westin Dubai and Dusit Thani Dubai.