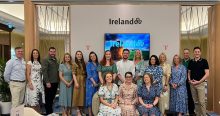 The first day of Tfest Dubai kicked off with Tourism Ireland showcasing their luxury offerings to the most influential buyers across the globe in Dubai. 14 iconic luxury island of Ireland industry partners joined in the event, including Adare Manor, Ashford Castle, Cashel Palace Hotel, Galgorm, Culloden Estate, Hayfield Manor, K Club, The Merrion Hotel, The Shelbourne Hotel, MHL Collection, Trump Hotel & Golf Resort Doonbeg, Irelands Blue Book, By Appointment DMC and Luxurious Ireland. As part of their afternoon Experiences on the Tourism Ireland stand in the Global Village they brought in their concept to life showcasing Ireland through unique experiences under the title – 'Awakening your senses in Ireland' and they brought in friends from Ireland who brought this to life.
Speaking to Tourism breaking news Olivia Frawley – Executive Pan Market Luxury, Tourism Ireland shared," we are very excited to be here at Tfest this year as we elevated our partnership with the event, as we felt that  it provided us a great opportunity to highlight the 14 wonderful partners we brought with us to Tfest with our luxury messaging and warm hospitality. We have a mixture of beautiful five star luxury hotels, DMCs, experiences and the most amazing is the fact that we have 14 of them and all situated in the same area, the global village and everyone is busy with their B2B meetings. We are showcasing our products ranging from castles to iconic city center hotels to luxurious hotels and properties in the countryside. What we love about Tfest that they provide us the opportunity for our partners and Tourism Ireland to really create relationships and that one on one time to network with them and further in the afternoon they can partake in the immersive experiences. Monday and Tuesday our friends from Belfast that came over to us on taste and tour, so basically we have come up with a concept of awaken your senses in Ireland and we want people to come and figure out where that smell or taste is from or is most aligned to in the island of Ireland."
Ireland's programme yesterday included "Sensorium in Ireland" a way one can taste, tour and discover the Emerald isle aligning your senses. Phil Ervine Co-Founder, The Spirit Circle Belfast Ireland reiterated, "We are here with Tourism Ireland with an interactive drinks experience called Sensorium we are asking guests to tap into their sensorial experiences awakening their senses and relating them to different areas in the island of Ireland."
Tomorrow will be a different and unforgettable experience with Keith Barry world's leading TV hypnotist, mentalist and brain hacker, Irish-born who will definitely blow your mind. Those who reserved their spots can prepare to have their senses heightened and be left amazed at Keith's unique blend of brain hacking and visual magic up close and personal.