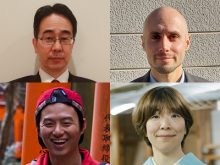 It was quite an interesting webinar session concluded by the partners of Kyoto tourism as they presented the wide variety of offerings in each region. Koji Kuriyama, Managing Director, Kyoto Tourism Federation welcomed everyone to the webinar and thanked everyone for taking time off their busy schedules to attend the event. "Today, we would like to provide you with information not only about the temples and shrines in Kyoto city but about Kyoto prefecture. Kyoto city is surrounded by traditional history and culture, there are landscapes called "Kyoto by the sea in the north, wonderful sceneries called "woodland Kyoto" such as thatched roofs in the central region, sceneries of tea plantations called "Kyoto infused with tea" in the south and sceneries of beautiful bamboo groves in "Kyoto Otokuni Bamboo Grove." I think you can enjoy different Kyoto. Today we will make a presentation about each region, so once the covid -19 crisis ends, we hope you can come to visit another Kyoto besides Kyoto city."
Ken Fujimoto, Representative, Japan Exploration Tours JIN shared that as a land operator in Kyoto they organise a variety of tours in and around the area. At first, he shared the counter measures taken to ensure the safety standards of all visitors. Thereafter, shared the many flight options and map of how to get to the destination, the areas that can be explored by all visitors including how the visitors can enjoy the four seasons. He covered areas from Woodland Kyoto; forest areas in Japan to mountain terrain to countryside hiking, special experiences that would also entail making ones' own handkerchief at the Handkerchief indigo dyeing experience, blowing glass experience, Namba soy sauce brewery, Katamoto organic farm to Japanese sweets making in Azuki no Sato (village of red beans), the varied river cruises, rafting experiences and many other exciting outdoor adventure activities that will interest the travellers. He focused on woodland Kyoto, Kyoto Infused with Tea & Kyoto Otokuni Bamboo Grove.
Jesse Efron, Overseas Promotion Manager, Kyoto by the Sea DMO shared a very comprehensive update about the boat houses built on the water which is also considered a UNESCO sight in one of the world's most beautiful bays. He said that there are two non-stop flights from Dubai to Japan one to Tokyo and the other to Osaka which takes 9 hours 25 minutes and 9 hours respectively. He stated the importance of one of the key areas the Amanohashidate which is very unique with its varied beauty by the sea, the bays, landscapes etc. He spoke about the Ine Fishing village and Ine bay; Japan's most beautiful villages and the world's most beautiful bays club. Next to the Tango Peninsular on the Japanese sea u UNESCO Global Geo Park, Amanohashidate, and Miyasu Bay; one of Japan's three scenic views and the world's most beautiful bays clubs. Followed by Tango Chirimen Corridor where they are unique for high-quality silk production for kimonos; a 300year heritage of woven silk. Among accommodation he shared that experience-wise it will be unique, from experiencing the life in a Japanese farmhouse; they could tailor-make your experience curated by them. The many artisans, chefs and other professionals have made sure of a unique experience, from Miso making to weavers. Of the 230 boat houses, he mentioned that 20 of them have been converted as accommodation units where one can have the whole boathouse for themselves throughout the stay. 'Sumihei' is a very good accommodation offering for social distancing.
Ayumi Kimba, Director, J-Links DMC specializing in inbound tourism to Japan stated that they will be able to take whatever queries that need to be answered by the agents in the Middle East and will be happy to welcome the guests once the borders open.