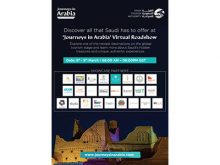 Saudi Tourism Authority (STA) will conduct a two-day roadshow curated for travel trade partners in the Middle East on 8th and 9th March 2021 from 8am to 8pm GST. The roadshow is part of STA's 'Journeys in Arabia' virtual engagement series and is an opportunity for partners to meet one-on-one with senior representatives from the key destinations, experience, and hospitality brands.
For the first time ever, local travel trade partners and key stakeholders are being brought together on one platform, to build relationships and stimulate conversations around potential commercial partnership opportunities. As it relates to leisure tourism, Saudi is a relatively new destination hence the focus is two-fold. While it is fundamental to drive awareness about Saudi amongst travelers around the world, also it is also critical to engage, educate and inspire travel trade partners about the diverse products and experiences that Arabia offers.
Saudi Arabia aims to achieve 100 million annual visits to the Kingdom by 2030, made up of both domestic and international travelers. In order to achieve this goal, STA has developed a comprehensive strategy to drive the number of visits, increase spend and build a leading tourism brand for Saudi. Across the world, 15 priority leisure source markets have been identified spanning the GCC region, Asia, North America, and Europe. This is broken down further into three target segments, leisure, MICE, and spiritual travel.
Since the opening of doors to leisure tourism in September 2019, STA has unveiled many new destinations and experiences for audiences from home and abroad. The Saudi offering is unique– its rich culture, deep heritage, diversity of landscapes and unparalleled hospitality. It is the authentic home of Arabia: a place of exploration, of unique experiences.