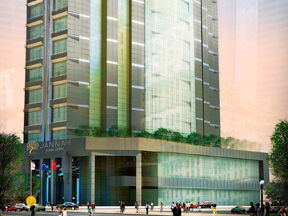 Jannah Hotels & Resorts revealed its latest openings and developments on a press conference recently. The conference was headed by the CEO of Jannah Hotels & Resorts, Richard Haddad along with media attendees. He addressed the expansion of the Jannah brand with the opening of the new and upscale 4-star property in Dubai, Jannah Dubai Creekside, this February 2020 and the upcoming launch of Jannah Ras Al Khor in 2022.
These openings have established the presence of Jannah Hotels & Resorts in the World Travel Market in London to reach the international market as they participate in an international exhibition. As they vouched to continue the success from UAE, Jannah Hotels & Resorts have started the ongoing expansion talk with Tajakistan to stretch the scope of the luxurious brand to the Central Asia.
Following the market trend of training hospitality professionals, Jannah Hotels & Resorts also announced development in hospitality practice with partnership to Typsy. The alliance is set to provide a convenient way of training staff in an advanced approach as they offer Applications available on desktops, tablets, and mobile phones for easy access whenever and wherever they want. With these latest additions and advancements, Jannah Hotels & Resorts is confident to maintain being the best leisure destination for a perfect staycation of travellers, long-term visitors, and corporate business travellers in the UAE and soon around the world.