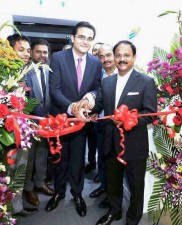 ITL World signed a new agreement with Sabre Corporation according to which Sabre will enable the TMC to continue fuelling its global expansion strategy. The TMC will also benefit from the new version of the Sabre Red Workspace, which was designed to help agents offer a greater experience and more personalisation to travellers. "We chose Sabre as its innovative technology has proven to better support our objectives, which include delivering the highest level of service to our customers," said Dr. Siddeek Ahmed, Chairman and Managing Director, Eram Group/ITL World. "Sabre's understanding of the latest technology trends and traveller behaviours has been essential in our expansion in the Middle East. It has helped us to truly understand the needs of the Middle Eastern traveller, enabling us to deliver an unrivalled service to our large customer base. Sabre's new platform will help us to meet the growing demands of our travellers globally, who demand and expect increasingly personalised itineraries and a seamless travel experience."
With 39 fully-owned/operated offices across Asia, Middle East & Europe, ITL World, a member of the Eram Group already enjoys a successful relationship with Sabre, will continue to access Sabre's broad portfolio of technology solutions, including the latest mobile, data analytics, personalisation and automation capabilities.
Sabre plays a critical role in enabling ITL World to increase productivity and achieve its growth objectives. Its new Sabre Red workspace was developed to meet the changing needs and expectations of travellers – a modern technology platform built around its core GDS infrastructure that provides a greater choice of services to customers. Sabre has also integrated its Dev Studio APIs – which provide market data, fare trend information, travel seasonality and alternative airports – into the platform. These APIs are then displayed in a new Decision Support Bar, which enables agents to offer advanced information and choices to its customers.