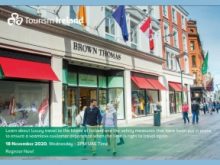 The first in a series of two webinars was successfully concluded yesterday with many trade partners participating in a virtual adventure to Ireland. Four speakers comprising Siobhán Naughton, Marketing & Trade Executive Middle East & Asia Tourism Ireland, Gillian Costelloe, Business Development Manager & Creative Planner, Emerald VIP Services, Deirdre Purcell, Cluster Sales Director North America and Entertainment Markets, MHL Hotels, David Wardell, Tourism Development Manager, Irish National Stud and Gardens and Alison Johnston, Kildare Village presented some of the most interesting areas in Ireland to be visited by the GCC travellers.
Naughton started off the session by introducing the destination, the key areas and activities much loved by the GCC travellers. She stated that since 2018, UAE nationals were given the opportunity to travel visa free to Ireland and at the same time the short stay visa waiver scheme allows GCC visitors who enter UK on the general C visit visa to also visit Ireland without an Irish visa and it is valid for a period of 90 days. Some of the key areas GCC visitors take an interest is luxury experience, city breaks, coastal touring routes, golf experience and screen tourism. At this point she mentioned how 80% of Game of thrones were filmed in Ireland as well some scenes from Star Wars.
Costelloe shared the many services offered by Emerald VIP Services where one can tailor make their individual experiences, as they focus on bespoke services. She mentioned the strong leadership behind the organisation and how the traveller will be able to gain maximum advantage with its specialised unique experiences. She went on to mention the many luxury experiences and the exclusive properties that can be rented out.
Purcell shared some of the most luxurious hotels in the area of Dublin under MHL Hotels and the many advantage of experiencing the properties.
David Wardell, Tourism Development Manager, Irish National Stud and Gardens shared the most exclusive experiences one can enjoy when they visit the property which consists of experiences like no other for those who love horses. The last speaker was none other than Alison Johnston, Kildare Village, part of the famous the Bicester Village which comprise of some of the best high end brands on very special promotions throughout the year.