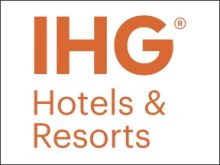 IHG Hotels & Resorts launched their loyalty partnership to give IHG Rewards members an even wider selection of luxury and lifestyle hotels to indulge in while they earn and redeem points. This month, the first selection of over 400 handpicked Mr & Mrs Smith hotels are available to book by IHG Rewards members through IHG's direct channels (including IHG.com and IHG mobile app). New hotels will be added each week, with the full selection of stylish properties available to book by early December.
This exclusive partnership more than doubles the number of luxury and lifestyle hotels which members can choose from; complementing IHG's luxury and lifestyle portfolio of hotels and resorts across Six Senses Hotels Resorts Spas, Regent® Hotels & Resorts, InterContinental Hotels & Resorts, Kimpton® Hotels & Restaurants and Hotel Indigo.
IHG Rewards members will be able to experience even more of the world's most sought-after luxury and lifestyle hotels, including Smith's most seductive stays, such as Thyme in the Cotswolds, UK; Caldera House in Jackson Hole and Casa Morada in Islamorada, near Key West; Florida, US; Oltrarno Splendid in Florence, Italy and The Retreat at Blue Lagoon in Iceland. This includes hotels in 11 new destinations where IHG is not currently present: Barbados, Belize, Saint Kitts and Nevis, Saint Vincent and the Grenadines, Croatia, Iceland, Sweden, Morocco, Mozambique, Sri Lanka and Myanmar.
As well as earning and redeeming loyalty points for their stays, IHG Rewards members can expect great extras on arrival at each Mr &Mrs Smith hotel. Elite IHG Rewards members will receive Bonus Points on eligible room rates according to their tiers, while InterContinental Ambassadors and Royal Ambassadors and Kimpton Inner Circle members will receive a complimentary room upgrade (where available) and Mr &Mrs Smith GoldSmith welcome gift.
Claire Bennett, Chief Marketing Officer, IHG commented, "We're all dreaming about when we can start to explore the world again and make new memories whether that's a trip to immerse ourselves in the exhilarating, or a restorative stay where every whim is taken care of. That dream just got bigger for our IHG Rewards members, with an incredible array of hotels and destinations to add to their bucket list. A loyalty programme isn't just about the points – it's about access to extraordinary experiences. This partnership does both."
"Mr & Mrs Smith is exactly the right partner for us – they too are hotel lovers who shaped the industry. Together our portfolio of luxury and lifestyle hotels now stretches from Six Senses Hotels Resorts Spa, Regent Hotels & Resorts, InterContinental Hotels & Resorts, Kimpton Hotels & Restaurants and Hotel Indigo through to some of the special independent and small boutique hotels in the world. We look forward to helping IHG Rewards members write their next travel stories," said Bennett.
Tamara Lohan MBE, CEO & co-founder, Mr & Mrs Smith, commented, "We conceived Mr &Mrs Smith for discerning travellers who want to discover truly extraordinary places with the people they love. We are hugely excited about the opportunity to bring our growing collection of carefully curated hotels to millions of IHG Rewards members, so they may experience some of the world's most seductive hotels."