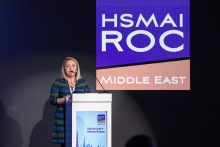 Hospitality Sales & Marketing International Middle East (HSMAI) is preparing for the future with training and events ready to further the skills of its hospitality professionals across the Middle East. HSMAI Middle East has prepared a comprehensive plan to focus on the future, with panel discussions, training workshops, surveys, and interviews on thought provoking topics. "We recognise that 'life must go on' and whilst we are holding ROC@Home with a focus on recovery, we also want to emphasise past trends that will return as an important part of our industry," said Mona Faraj, Managing Director of HSMAI Middle East.
ROC@Home, a full day experience taking place on Wednesday, June 17 will include live sessions from the Middle East, Americas, Europe and Asia Pacific, and is designed to fuel industry recovery and revitalisation efforts. The exclusive toolkit offers an opportunity to engage with teams, as well as regional live expert sessions designed for hotel professionals to reset, refocus and reenergise.
'Demystifying Distribution' will kick off the 4-session series on Monday, June 29 and is suitable for both General Managers and Marketing Managers who should understand distribution in today's world. A trend that is steadily growing is the Chinese traveller, with annual growth in the double digits across areas of the Middle East pre COVID-19. This trend is anticipated to recover, and what better time to start planning to attract this active market. How to tap into the China Market will start with the foundations and continue with digital platforms, ending with advance digital and marketing essence.
This series of three sessions will start from Wednesday, July 22.
"We have received a strong response to date from industry colleagues globally for ROC@Home, with over 500 registrations for the Middle East sessions alone," said Faraj.