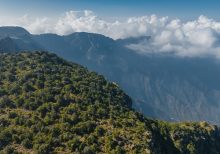 His Royal Highness Crown Prince Mohammed bin Salman bin Abdulaziz Al Saud, Prime Minister, and Chairman of Soudah Development has launched the masterplan to develop Soudah and parts of Rijal Almaa into Soudah Peaks – a luxury mountain tourism destination set 3,015 meters above sea level on Saudi Arabia's highest peak, contributing more than SAR 29 billion to the Kingdom's cumulative GDP, and creating thousands of direct and indirect job opportunities. It is strategically aligned with Vision 2030 goals of expanding tourism and entertainment, supporting economic growth and attracting investments.
Situated within an extraordinary natural and cultural environment in the Aseer region (southwest Saudi Arabia), the project is a key part of the Public Investment Fund (PIF)'s efforts to diversify the economy by expanding vital industries such as tourism, hospitality, and entertainment, and supporting Aseer development strategy.
HRH Crown Prince Mohammed bin Salman, Chairman of Soudah Development's Board of Directors, stated that Soudah Peaks represents a new era of luxury mountain tourism by providing an unprecedented living experience while preserving the natural environment, cultural, and heritage richness.