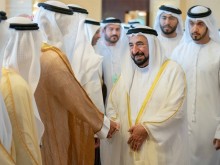 The fourth edition of the two-day Sharjah FDI Forum titled 'Shaping the Future of Economies', got underway in the presence of His Highness Sheikh Dr Sultan bin Muhammad Al Qasimi, Supreme Council Member Ruler of Sharjah. The event opened with optimistic comments by the HE Sultan Bin Saeed Al Mansouri, Minister of Economy, the UAE, and the Shurooq Executive Chairman about the nation's readiness to promote foreign direct investments (FDIs) as an enabler of sustainable development, despite the slump experienced globally – especially in developed economies – in 2017. Al Mansouri shed light on how the new UAE Investment law has come into force to consolidate the nation's position for FDI both regionally and globally, in line with the UAE Vision 2021 and the UN Sustainable Development Goals 2030. Global flows of foreign direct investment (FDI) fell by 16 per cent in 2017 to an estimated US$1.52 trillion, from a revised US$1.81 trillion in 2016, according to the latest World Investment Report. The Economic Minister cited examples like the approval of 10-year visas for those in the fields of science, technology; new stimulus packages like bank guarantees; flexible remittances; 100 per cent business ownership by foreign investors; the promotion of entrepreneurship, technology transfer, and building capacities of national cadres.
Al Mansouri remarked, "There is a need to promote cooperation and dialogue to turn this negative decline around. The UAE has number 1 position in FDI in the Arab region. It is forums like this that offer a platform for the same, and will contribute to mapping of FDI in Sharjah and the UAE."
He explained that the UAE Agenda 2021 has a focus on attracting qualitative investments targeted towards achieving sustainable development, noting, "The new FDI law will be integrated with several supplementary laws and a list of incentives to lead future FDI trends."
He further highlighted, "This new integrated investment environment will take the UAE's economic growth up by 15 to 20 percent in the next two years." The UAE has been the prime regional destination of FDI inflows at about $11 billion in 2017, accounting for 22 per cent of total flow to the Middle East and North Africa region. HE Marwan bin Jassim Al Sarkal, Executive Chairman, Sharjah Investment and Development Authority (Shurooq) echoed the UAE Economy Minister's sentiments, saying, "When we say qualitative additions to the investment climate and opportunities, we are not just looking at attracting more money and new investors into existing sectors like agriculture, tourism and real estate, among others, but we also need to look at boosting innovation, technology, research and development as we are focusing our resources and energies on building smart cities based on sustainability and green economy principles."
"The UAE and Sharjah recognise the needs of investors, and has been strengthening its infrastructure and legal framework to benefit businesses and society," Al Sarkal added.