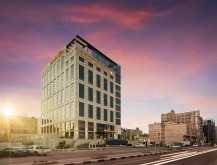 The new 133-key Hilton Garden Inn Al Jubail has opened in Saudi Arabia's commercial centre in Jubail, Dammam. It joins three existing Hilton Garden Inn properties in Saudi Arabia. Helmed by Dewan Architects + Engineers as the lead consultant and designer of the project, the hotel building serves as a contemporary hospitality haven in the heart of Al Jubail, the industrial hub of Saudi Arabia. The hotel's modern form is a new visual anchor for this emerging city. Set on the Jubail Corniche near the Jubail Commercial Port, the property is conveniently located between King Fahd Airport in Dammam and the Royal Commission of Jubail and its industrial city.
"The completion of Hilton Garden Inn Al Jubail marks a key moment in this district's transformation," says Dewan Architects +Engineers Executive Director, Ammar Al Assam. "The hotel's contemporary architectural expression reflects the spirit of its surroundings – a growing and constantly evolving city."
In line with Dewan Architects + Engineers' "go green" initiatives, Hilton Hotels recently announced it is teaming up with Clean the World, an organisation that collects used soaps from hotels, melts them down, sanitises them, and creates brand new bars of soap for people in need. The eight-storey hotel, located on King Faisal Street East, offers 133 spacious guest rooms; a contemporary lobby overlooking the Arabian Gulf; modern meeting rooms (Najla and Dalal); the Panorama (Ladies) lounge; a stunning rooftop swimming pool with views over the Gulf; separate his and her gyms; and high-speed internet access. Guests can enjoy fine dining, themed buffets and weekend brunches at The Garden Grille restaurant, while the Garden Café offers snacks and beverages.