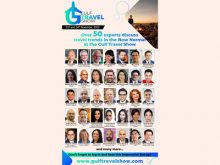 Don't miss out on an excellent line up of speakers at the Gulf Travel Show on November 23-24, 2020 from 10am to 4pm. Travel contributes nearly 11% of GDP in the region and hospitality has over 700,000 jobs that needs to stay on to provide an amazing experience whilst driving businesses to the next level.
Re-focus on corporate travel
In the GCC region inter-GCC travel for various businesses is an utmost important agenda every year. Former CEO of Jumeirah Group and Ambassador for WTTC Gerald Lawless will be joined by an expert panel comprising Anita Mandiratta, special advisor to the Secretary General UNWTO, Ross Veitch Co-Founder and CEO Wego and Adel Mardini Founder CEO of Jetex.
Re-imagine travel
Will we look at a new era of the travel industry? Being optimistic about the future, travel will need a new face hence Roxana Nicolescu, Brand Marketing Director Wego speaks with three experts in their field about the new initiatives taken for travel. Listen to GB Srithar, Regional Director – India, Middle East & South Asia (IMESA) – Singapore Tourism Board, Yamina Sofo – Director, Sales & Marketing – German National Tourist Office, Gulf countries and Stewart Smith – Director EMEA Sojern as they share details of how travel will resume again.
Re-engage with numbers
TravTalk has been in the forefront of information for the travel trade with various initiatives to ensure the industry stays positive in this time of uncertainty. Group CEO of Durga Das Publications San Jeet will have a tête-à-tête with Hala Matar Choufany; President – Middle East and Africa – HVS about the real big picture.
Dealing with the now normal
Jamal Abdulnazar; CEOCozmo Travel will host three key areas that contribute to the travel and tourism industry at a panel discussion about the "now normal" as they say, as the pandemic is yet to be completely eradicated. He will be joined by Arijit Munshi – General Manager -Tune Insurance, Sanjay D'souza – General Manager – Sayara Rent a car and Binoy Ouseph – Commercial Director Ibyta, Bed Bank.
Re-ignite women in leadership in GCC
It is a proud moment to listen to the first female GCC hoteliers in conversation at the Gulf Travel Show. Sharihan Al Mashary – Hotelier, General Manager, Asia Society United Nations SDSN Youth. (First female Emirati General Manager) interviews the first female Saudi General Manager Maram Kokandi, General Manager of the Park Inn by Radisson Jeddah. This is one of the most interesting discussions that would keep you so engrossed you would not feel the time pass.
Interview between PATA and IATA
Two of the most prestigious organisations get together to discuss the important findings and research data about travellers. Paul Pruangkarn Director Communications and External Affairs – PATA hosts the session with Dr.Mario Hardy – CEO PATA Interviewing Kashif Khalid – Regional Director – Africa and Middle East IATA.
Re-engineering travel
Tourism boards are shifting gears, making new strategies and plans for the next quarter. Find out what their plans are by listening to Travel Influencer Namratha Rose discuss further details with Beverly Au Yong, Area Director, Singapore Tourism Board, Middle East, Shahrin Mokhtar – Director –GCC (Dubai office) Tourism Malaysia and Christos Demetriou – Regional Office Director GCC and Middle East – Cyprus Tourist Office Dubai.
Traveller behavior in the now normal
Amadeus Gulf represented by Jamel Chandoul – Senior Vice President Retail, Middle East and Africa and Ernesto Sanchez Beaumont is the Managing Director for Amadeus Gulf share their predictions for 2021 with Group CEO DDPPL San Jeet.