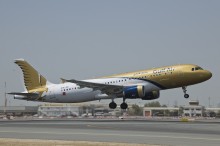 Gulf Air, the national carrier of the Kingdom of Bahrain, is onboard once again, supporting 'Shop Bahrain' for the fourth consecutive year as official airline of the nationwide shopping festival. As a strategic partner of 'Shop Bahrain', Gulf Air is providing more than 6,000 airline tickets at discounted prices as raffle prizes. In addition, Gulf Air customers will receive 4 points for every 1BHD spent when purchasing flights throughout the festival period which runs until February 10, 2018.
Captain Waleed Abdulhameed Al Alawi, Deputy CEO, Gulf Air, said, "We are delighted to partner with 'Shop Bahrain' once again. This strategic partnership is in line with Gulf Air's ongoing commitment to support initiatives that help drive the growth of the tourism, retail and hospitality sectors in the Kingdom of Bahrain. It is fitting that we collaborate in this regard, further strengthening Bahrain's positioning as an attractive destination regionally, while helping to showcase the Kingdom's tourist attractions and encourage visitors to experience the trademark Arabian hospitality."
Yousef Al Khan, Director, 'Shop Bahrain', stated, "This year, we have been coordinating with Gulf Air and various hotels in the Kingdom to develop attractive tourist packages. We aim to offer visitors an unforgettable shopping experience packed with fun-filled events and promotions.".