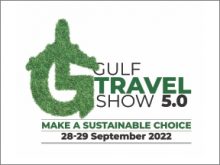 After a successful close of 500 plus B2B meetings on day one of the fifth edition of Gulf Travel Show with Tourism Malaysia as platinum partner and German National tourist office as silver partner opens today to the travel trade of the Middle East to network with the partners from various tourism boards, hotels and resorts, attractions, travel agents and DMCs.
Dato' HJ Zainuddin Abdul Wahab Director General Tourism Malaysia opened the show welcoming all the exhibitors and buyers to the fifth edition of the Gulf Travel Show. "First and foremost I would like to take this opportunity to thank you for inviting me to attend the Gulf Travel Show 5.0 virtually. As a platinum partner of GTS 2022, Malaysia is thrilled to welcome back Middle East tourists to visit and experience our country again. It is a timely opportunity for us to network with travel agents and tour operator partners from the Gulf region. Today, Malaysia is more than ready to welcome more travellers worldwide and in almost two years of stringent border controls to contain the covid 19 outbreak, Malaysia's international border have reopened since 1st April 2022. Ladies and gentlemen, I'm also pleased to share with you that Malaysia is one of the most hassle free countries to visit in post pandemic. Travellers are no longer required to oblige the travellers guide, pre-departure test, on arrival test as well as civilians' order, travel insurance is no longer a pre requisite for foreigners to enter the country. Malaysia is known for our natural wonders, a melting pot of cultures with various ethnics and friendly faces who need no introduction as we are known for our warm hospitality. We can't wait to have you experience our natural wonders and latest attractions including our special outdoor theme park in the highlands the newly opened "Genting Skyworlds theme park" as well as the magnificent Merdeka 118 tower in Kuala Lumpur currently standing as the world's second tallest building. Be it by the beach, up in the mountains, under the waterfalls or simply in the heart of the city enjoying our night life you shall have a wonderful time whatever and whenever here in Malaysia. Also do take the time to immerse in our vibrant culture and local cuisine as we interentwine cultures with a delightful gastronomical experience for you to take home as warm memories. I hope that the Gulf Travel Show 5.0 will be a good platform for all travel partners to choose Malaysia as your next holiday destination. I would like to thank you once again for taking the time to be part of this event and wish all of you a great and beneficial event. Last but not least on behalf of Tourism Malaysia I wish all participants a fruitful session. See you in Malaysia soon!"
The special industry expert sessions started off at the auditorium with sustainability in hospitality – how much do we need to invest? Moderated by Iftikhar Hamdani Area General Manager Coral Beach Resorts Sharjah and Bahi Ajman Palace hotel, with panelists Roxana Jaffer – Thought Leader, CEO Sovereign hotels, Holiday Inn Dubai and Founder NGO – abc foundation, Margarita Huaca Sajons Engineer & Sustainable Development Expert – Business Development Energie GCC and John Arnold  Director Green-Good Eco-Tech FZCO. Managing Director of IHG IMEA Haitham Mattar shared his views on "Integrating sustainability in hospitality" whilst Sapna Aidasani Director PR and Marketing Pluto Travels moderated a session on "Sustainable tourism trends and attractions in the region" with Deepa Rajesh Director of Sales and Business Development Cozmo Travel, Varsha Pherwani Travel Counsellor Associate at Travel Counsellors and Marwa Abdulwahed Strategy and Marketing Director at The Retreat in Fujairah.
Tourism Malaysia participating for the fifth consecutive time at the Gulf Travel Show (GTS) as platinum partner has its own virtual pavilion with 15 booths consisting of the tourism board, tour operators, DMCs, attractions and hotels and resorts such as Tourism Malaysia Dubai, Asian Overland Services, Escape Penang, Legoland Malaysia Resort, Capri by Fraser, Bukit Bintang, Mardhiyyah hotel and suites, Rebak island resort and marina, Langkawi, Sunway city Kuala Lumpur hotel, Tenera Hotel Bangi, The Taaras beach resort and spa and Berjaya Tioman resort, the Westin Langkawi resort and spa, Onthego tour and travel, Oscar holidays, Peral island holiday travel agency and Red apple travel.