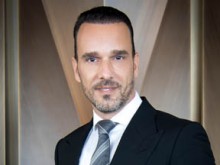 Rene Mayer has been appointed Director of Sales and Marketing at Grand Hyatt Abu Dhabi Hotel and Residences Emirates Pearl. Educated at Cornell University School of Hotel Administration, New York, he has been involved in the hotel industry from the age of 17. He established his career with several leading hotel groups in Europe, and eventually attained management positions at international companies such as InterContinental Hotels & Resorts, Kempinski Hotels and Starwood Hotels & Resorts.
After moving to Asia in 2011 to assume the position of Director of Sales and Marketing at Sofitel Hanoi, he became the Director of Global Sales for Regent Hotels & Resorts in Taipei. Mayer spent the past five years with Fairmont Hotels in Indonesia, including Fairmont Sanur Beach Bali and Fairmont Jakarta. During that time, he was awarded the Sales Hotelier of the Year 2016 for the Asia-Pacific region at the BMW Hotelier Awards and the hotelier distinction as the Best Marketing Department in Indonesia and Asia Pacific at the International Hotelier awards. In addition, he was recognised by Linked-In in its 2017 "Power Profiles" awards as the most searched hotelier profile in Indonesia.
"We are excited to have Mayer as part of Grand Hyatt Abu Dhabi & Residences Emirates Pearl. I'm confident that our hotel will continue to grow under his leadership in the Sales & Marketing Department," says Julien Gonzalvez, General Manager, Grand Hyatt Abu Dhabi Hotel and Residences Emirates Pearl.