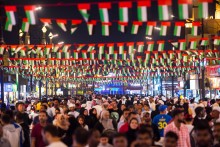 To celebrate the UAE's 47th National Day, a host of events and festivities took place at Global Village recently. Expressing happiness on the occasion, Bader Anwahi, CEO, Global Village, said, "Commemorating the founding of this great nation, we at Global Village are proud of our tradition of bringing all people of the world together in order to celebrate and be happy. Our country has prospered and thrived on the premise of being a welcoming nation, open to all cultures and people, globally. Today, we reflect on the founding of the Union under the wise and visionary guidance of Sheikh Zayed bin Sultan Al Nahyan who brought our Emirates together and put us all on a path to peace and prosperity. The UAE has, within 47 years, become one of the most advanced, affluent, and well-developed countries in the world, thanks to our wise leadership."
An exclusive event for the National Day celebrations is the Operetta – 'Zayed: Leader of the Humans', that was performed by a cast of more than 25 and was a dedication to the father and founder of the UAE, Sheikh Zayed bin Sultan Al Nahyan. It was produced by Ornina Arts and Events and directed by Nasser Ibrahim, well-known across the region for developing some of the finest national and international shows.
The Global Village fireworks have always been a favourite for UAE residents and tourists. For the 47th National Day, a mega-musical fireworks display also took place.