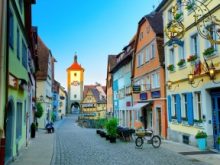 Unspoilt nature and carefree enjoyment, sustainable offers and good entertainment are the cornerstones of the 'German Summer Cities 2021′ campaign, with which the German National Tourist Board (GNTB) is promoting vacations in the urban regions in summer 2021. With #GreenSummerStories, the GNTB draws the attention of potential guests to alternative offers beyond the familiar tourist hotspots, such as green spaces, parks, local recreation areas and leisure activities in the vicinity of urban destinations.
"The Corona pandemic has disproportionately affected city breaks as a particularly successful segment of German incoming tourism. In line with the growing need for security and care on the part of foreign guests, the focus in the coming year will be on new sustainable city experiences – German Summer Cities," explains Petra Hedorfer, CEO of the GNTB. "We are setting new trends for international travellers with attractive offers in the areas surrounding the cities. Our marketing activities are focused on raising brand awareness for the Destination Germany brand and inspiring our customers' travel plans for next year."
The 'German Summer Cities 2021' will focus on five thematic clusters: 'Nature and the City' focuses on the broad spectrum of nature and activity offers in the city and directly at the gates of the cities. 'Sights' also highlights lesser-known highlights in metropolises and smaller cities. 'Romanticism' gives suggestions for dream routes to indulge and linger. 'Art and Culture' spans the arc from classical culture, tradition and customs to contemporary art experiences. 'Entertainment' inspires trips to Germany on the occasion of small and large events that will take place in 2021.
Petra Hedorfer continues, "With great commitment, many partners in Germany's tourism industry have adapted to the needs of customers in times of Corona. With our campaign, we are playing these products off specifically in relevant markets and target groups".